20/40ft Container Cold Room
Container cold room compressor brand: Bitzer, Copeland and so on.
Container cold room temperature range: -30'C~-10"C.
Container cold room panel: PUR/PUF/PIR Panels.
Evaporator Case: PPGI/Stainless Steel/ Aluminum Box.
Walk in freezer doors: Hinged / Sliding / Swing / Lifting doors.
Cooling Type: Water Cooled/ Air Cooled/ Evaporative Cooled.
Usage: Fresh Keeping/Freezing.
Application scenarios: supermarkets, seafood and meat processing plants, medical laboratories, etc
Certification: CE,ISO,CCC,COC,SABER
MGREENBELT

China

30 days after advance payment
20/40ft Container Cold Room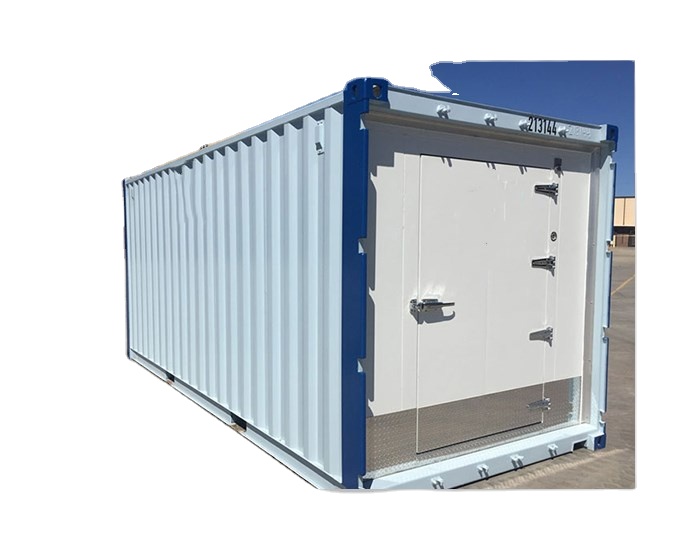 Cold Room introduction:
Whether you are looking for Container Cold Room, refrigeration condensing units, insulation panels, evaporator air coolers, MGREENBELT is the go- to professional manufacturer.
Mgreenbelt Container Cold Room, typical temperatures for our cold room range from of -30°C to +15°C. It can store frozen meat, fish, seafood, chicken, ice cream, vegetables, fruits, dairy products, beverages etc. Container Cold Room is staples of logistics warehouse, restaurants, farms, hotels, supermarkets facilities.
Features:
1. Nice appearance :The insulation panel and framework are available in dozens of colors which are to be elected in satisfactory harmony with various styles of buildings.
2. Insulation : Polyurethane or polystyrene with low thermal conductivity and high strength is utilized, achieving good insulation performance.
3. There are Condensing Unit and Unit Cooler refrigeration devices. Different models of temperatures can be selected according to different cold storage.
4. Fast installation.
5. Hygienic conditions of food inside cold stores are up to the standards.
6. Durable building structure, super quality material.
7. The container cold storage is converted from the old container, and the interior is assembled with new PU panels and new refrigeration equipment. It is suitable for tight land resources, and there is no need to build steel structures or simple shelter buildings. Save the cost of cold storage panel construction and machine installation and connection, and it can be used immediately after receipt.
Specifications:
Model
MGH-M
MG02H-M
MG03H-M
MG04H-M
MG05H-M
MG06H-M
MG07H-M
MG09H-M
MG10H-M
MG12H-M
MG15H-M
MG20H-M

Compressor model

Old
2GC2.2Y
2EC3.2Y
2CC4.2Y
4FC5.2Y
4EC6.2Y
4DC7.2Y
4CC9.2Y
4VCS10.2Y
4TCS12.2Y
4PCS15.2Y
4NCS20.2Y
New
2GES-2Y
2EES-3Y
2CES-4Y
4FES-5Y
4EES-6Y
4DES-7Y
4CES-9Y
4VES-10Y
4TES-12Y
4PES-15Y
4NES-20Y
Cooling capacity/
power
Evaporating
-5℃
Cooling capacity(kW)
4.61
7.38
10.88
11.8
14.82
17.35
21.6
22.7
27.4
31.3
37.4
Power (kW)
1.88
2.66
3.94
4.24
5.36
6.21
7.85
7.77
9.54
10.85
12.89
Evaporating
-10℃
Cooling capacity(kW)
3.78
6.05
8.97
9.67
12.12
14.21
17.7
18.35
22.3
25.3
30.4
Power (kW)
1.75
2.47
3.66
3.97
5.0
5.8
7.29
7.14
8.78
9.93
11.87
Applicable temperature(℃)
-5~5
Refrigerant
R404A
Power supply
380V/3P/50Hz
Condenser
Fan quantity
1
2
2
2
2
2
2
2
4
4
4
Fan voltage(V)
380
380
380
380
380
380
380
380
380
380
380
Fan power(W)
180×1
180×2
180×2
180×2
180×2
250×2
250×2
250x2
180x4
180×4
180×4
Coupling
Suction coupling(mm)
φ16
φ22
φ22
φ22
φ28
φ28
φ28
φ28
φ35
φ35
φ42
Tube coupling(mm)
φ10
φ12
φ12
φ12
φ12
φ16
φ16
φ16
φ16
φ22
φ22
Overall dimensions
L(mm)
620
960
1060
1300
1300
1300
1280
1280
1280
1280
1350
W(mm)
650
680
680
750
750
750
710
710
710
750
800
H(mm)
560
460
720
670
770
870
910
910
1210
1460
1410
Mounting dimensions(LxW) (mm)
580×350
920x380
920×380
1260x410
1260x410
1260x410
1000x665
1000x665
1000x665
1000×705
1000x755
Sample: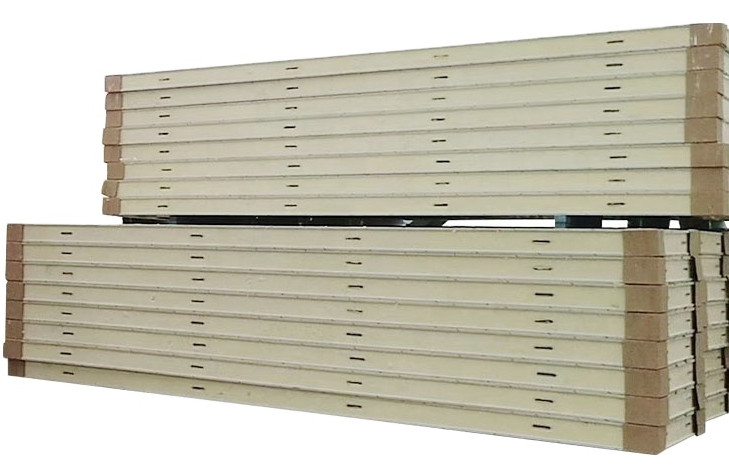 Polyurethane (pu) panel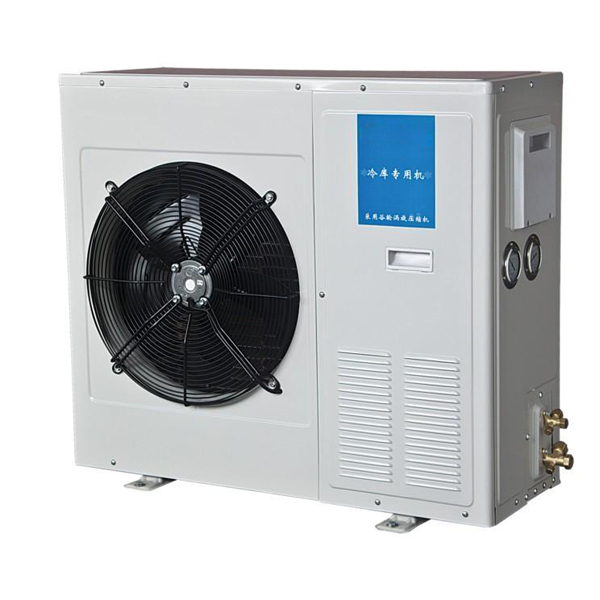 Scroll compressor condensing Unit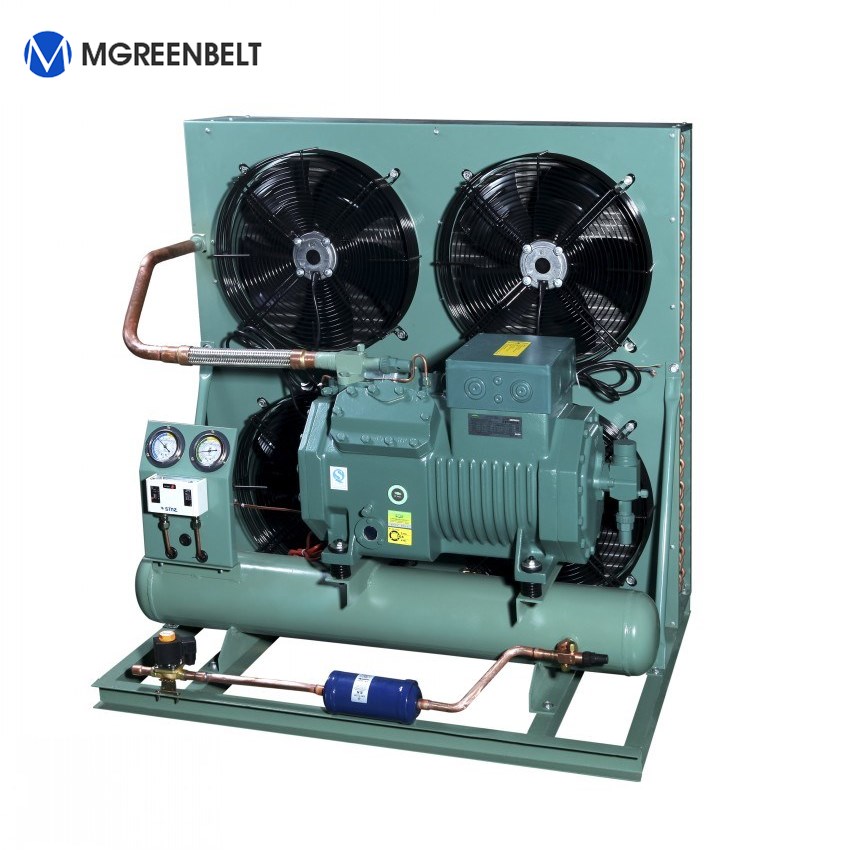 Semi-sealed piston compressor Condensing Unit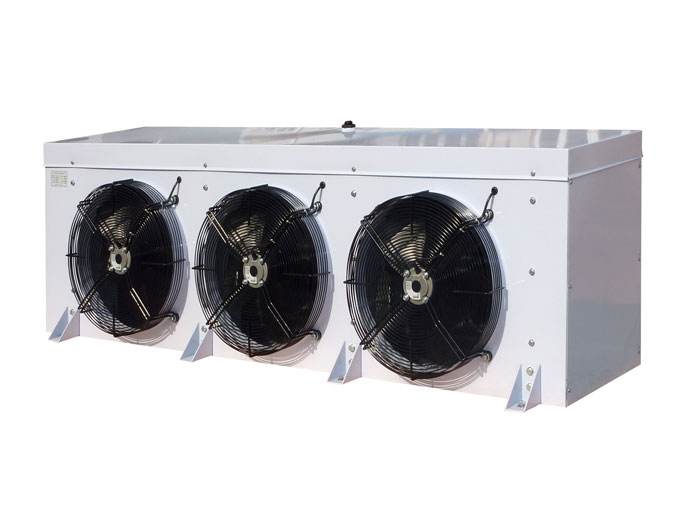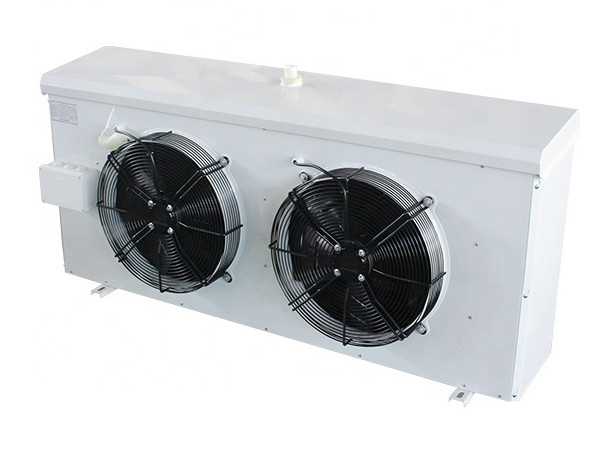 Unit cooler
Looking forward to your visit:
Sale manager: Laura
Email: sales05@mgreenbelt.com
Whatsapp/Wechat: +8617615806760
Facebook: Laura Chen
Twitter: @LauraMG15555513
Get the latest price? We'll respond as soon as possible(within 12 hours)