Large Poultry Cold Room For Chicken Factory
A cold room is a warehouse in which a specific temperature is artificially generated, it can store fruits, vegetables, seafood, meat, chicken, flowers, blood and other medicines. Cold rooms are staples of restaurants, farms, hotels, supermarkets, and any other place that needs to store fresh, frozen, or pre-cooled food products.

Refrigeration is important for maintaining a proper, unbroken cold chain. Using meat as an example, after slaughtering, meat will be cleaned firstly, then distribute it to shop and supermarket, some of will be quick freeze first, then store it inside cold storage for long time keeping. If the cold chain is broken, bacteria or fungus can grow, making the food unsafe for human consumption.
MGREENBELT

China

Within 30 days

1000 pcs/year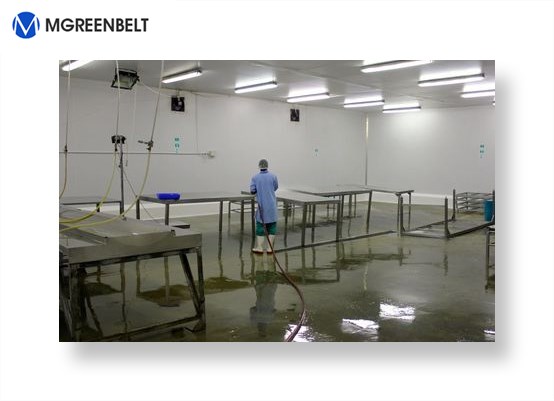 Mgreenbelt walk-in freezer, typical temperatures for our cold room range from of -18°C to -25°C (0F TO -13F). It can store frozen meat, fish, seafood, chicken, ice cream etc. Walk-in freezer is staples of logistics warehouse, restaurants, farms, hotels, supermarkets facilities.
STANDARD FEATURES
120mm to 150mm (4.7" to 5.9" ) Polyurethane Foam Insulated Panels
R- Value ≥31
S- Flat White Galvanized Steel Exterior Surface and Interior Surface Finish
High / Low Alarms
Energy Efficient Offering Lowered Maintenance Cost
Corrosive Resistant Painting for PU Panel and Refrigeration Machine
Customized Voltage and Refrigerant Gas
OPTIONAL FEATURES
Extended Temperature and Humidity Ranges
Stainless Steel / Aluminum / Embossed Surfaces
Ethernet / Remote Monitoring / Alarming
Corrosive Resistant Equipment
Back Up System
Data Logging
Custom Lighting System
Shelving
Unlimited Door / View Window Sizing
Get the latest price? We'll respond as soon as possible(within 12 hours)